Move This March with This Girl Can
Ladies it's time to have fun and feel great again, so let's all #MoveThisMarch with #ThisGirlCan and join us for our sixth Charity Event! This year may look very different but it is guaranteed to be our biggest and best event yet. Plus it will be our FIRST ever Virtual whole MONTH Event.
Location

Virtual Event

Contact

Teresa Dalby / t.dalby@lrsport.org
Social
Facebook

Twitter

Instagram
When

Mon, 01 Mar 2021 - Wed, 31 Mar 2021

Campaign

Organised By

Tags
Move This March with This Girl Can
We have a variety of sessions taking place throughout the whole of March including things like: Bhangra Fusion, Home Barre, Yoga - Yin & Nidra, Dance, Pilates, One Fit Core, Ballet, Fight & Flow (Yoga & Kickboxing), Rave Fit, Breathe for Stress, Bolly Zumba, Nordic Walking & Soccercise.
Take a look at our calendar of events and sign up now. Once you have secured a ticket, there is NO limit to the amount of sessions you can book onto!
Discover what each session entails and the instructors behind the sessions by clicking through to their websites.
A dedicated Facebook group has been created to encourage and motivate every woman across LLR to achieve their exercise goals.
There will be special events to celebrate International Women's Day & Mothering Sunday.
For all those who buy a ticket you will receive a free This Girl Can t-shirt and water bottle!
General Sale:
T-Shirts
You will be asked what t-shirt sizes you require upon booking. The t-shirts are unisex sizes of:
Small - Size 10
Medium - 40"
Large - 43"
X Large - 45"
XX Large - 48"
Please note that if you book your places before 20th February, you will be guaranteed your chosen size (it's when we need to place the t-shirt order by!). After this date we will do our best to accommodate your chosen size.
Further Information:
Organised by Leicester-Shire & Rutland Sport (LRS) in support of Hope Against Cancer. Founded in 2002, the charity supports cutting-edge cancer research in the Leicestershire and Rutland area. They strive for a future where more local people survive cancer, through funding innovative research that leads to improved treatments and better outcomes for local people.
The event is suitable for ages 14+ (those aged under 16 must be accompanied by an adult within each activity session)
Limited places available - book early to avoid disappointment.
Please note bookings are only confirmed once payment has been received.
You will be required to complete a Physical Activity Readiness Questionnaire (PAR-Q) before attending this event/sessions. The form can be found here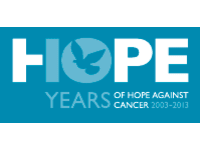 Supporting Documents: